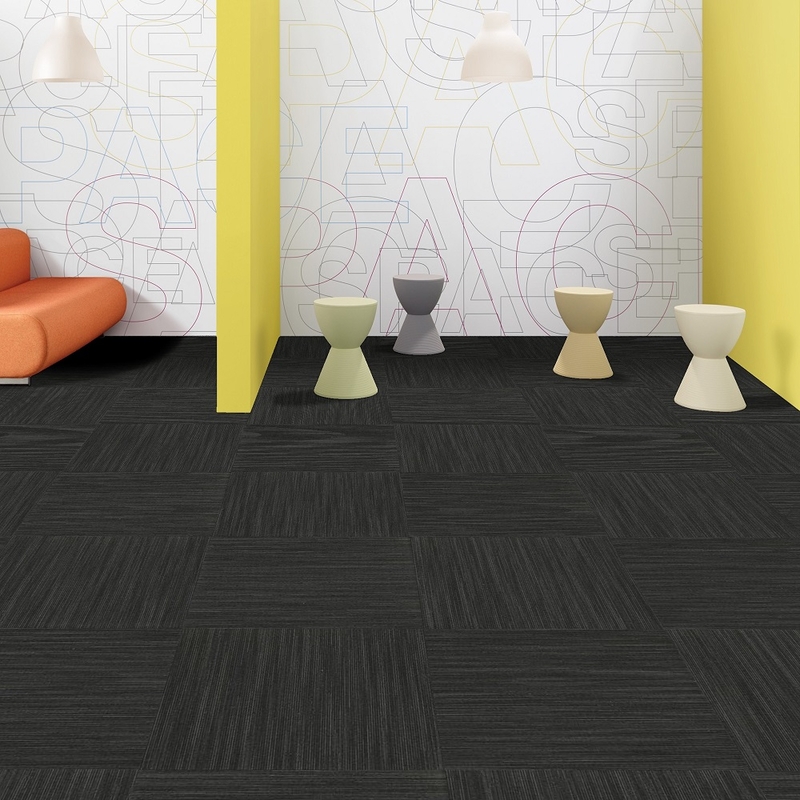 Product Description
The Shaw Contract Basic collection comes in a stunning range of twenty different colors. This collection is USA made and comes with Shaw's lifeguard spill-proof backing. Need carpet that is spills, pets, an kids? These floors keep carpets spill and odor proof with padding that protects floors from damage. These floors are also extremely easy to clean. The lifeguard and R2X keeps spills on top of carpet instead of having it soak into the carpet, so that cleaning up is easy.

There are many benefits to having carpet floors. Carpet adds a specific design element to a space that can't be achieved with other flooring options. Carpets gives a space an entirely different feel to it. If you are looking for comfort, carpet is the way to go. With a hard surface floor, your body absorbs the force of the impact while carpet provides shock absorption due to its flexibility and cushioning. If you live in a colder climate, carpet is a great way to add warmth to a space. Carpet keeps a space well insulated when it comes to warmth and sound. Due to the fact that soft surfaces absorb sound better, carpet contributes to a quieter space.

When it comes to carpet and color, Shaw Basic carpet flooring is dyed using the continuous dye method. With this dyeing process the whole length of the textile is passed through the dye. This allows the dye to be colored throughout the carpet and therefore last longer.

Carpets in this collection are installed using the glue down method. With the glue down method carpets can be directly glued to the floor or they can be glued to a pad that is then glued to the floor. The Shaw Contract Basic collection comes with a full manufacturer's warranty so you can be sure that you'll be backed just in case anything does go wrong with your new floors.
The Collection

The Shaw Contract Basic collection comes in twenty different colors. There are a variety of colors to choose from depending on the interior design of a space. If you are looking for more neutral colors when it comes to carpet, consider carpet colors such as Super Fine, Snowfall, and Eggshell. For a bolder carpet statement there are a few darker carpet colors such as Portobello, Steel, and Gold Rush. With twenty colors to choose from there is sure to be a color that fits with the design of your space. The color of the carpet makes a big difference when it comes to flooring. The entire space can be changed due to the color of the carpet.

See something in the Shaw Contract Basic collection that is catching your attention? Give us a call at 510-698-5142 to talk with one of our flooring specialists for more information. We can answer any questions or concerns you may have when it comes to the Shaw Contract Basic collection or any other flooring. For a look at more carpet collections from Shaw, click here.
Read More
Details
Coverage: 47.97 square feet
Length: 24"
Width: 24"
Thickness: 13 ounce
Construction: Commercial Carpet Tile
Install Type: Glue Down
Warranty: Full Manufacturer's Warranty
Manufacturer Guidelines: "Orders less than 400 square yards cannot be processed"
Shipping Info
Shipping Made Easy
Shaw Warehouse Pick up
Shaw has over 20 locations nationwide to pick up your order. Enjoy the benefits of quick availability and flexibility to pick up on your schedule. Warehouse address locations are displayed prior to end of check out.
Shaw Business Delivery
For just $99.00 your order will be delivered to any zoned business address. With Advanced Shipping Notification you?ll know when your order is arriving. Our goal is to provide an on time and worry free delivery experience
Order Placement
Your order is placed the same day upon receipt of payment. An order confirmation email will be sent within 24 hours giving an update on the status of your order.

Order Shipping
Shipping time is usually between 5-7 days* from the time your order leaves our warehouses. For warehouse pick up, delivery time is only 3-5 business days!

*certain locations and rural areas may have extended lead times
Need it ASAP?
For when yesterday wasn?t soon enough, we can process and ship your order the same day. Please contact us at 510-698-5142 for details and mention SHIP RUSH when you call.
Order Updates and Tracking
Our logistics team will e-mail or call you with a tracking number along with the customer service number of the carrier within 48 hours after your order has shipped. With this information you can then call and make arrangements for delivery.
For warehouse pick up or when receiving at a freight terminal, a pick up ticket will be emailed containing instructions and ETA.
Hawaii/Alaska/Canada
Qualityflooring4less has the expertise to deliver anywhere outside the continental US. Please inquire at 510-698-5142 for a custom quote.
*certain warehouse locations may be subject to applicable local sales tax
Warranty / Installation
Warranty
This product comes with the full manufacturer's warranty. Qualityflooring4less is a brick and mortar retailer so you receive the best warranty with your purchase. The only difference between purchasing local vs. online is the price you pay. To maintain the warranty and durability of the floor, adhesives made by the manufacturer are highly recommended.